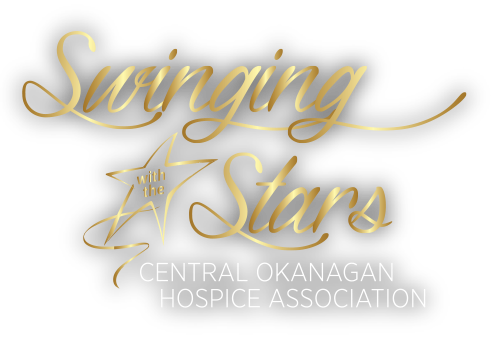 2018
Planning for the 10th annual Swinging with the Stars began in summer 2017. Our vision was to make the 10th anniversary a celebration to honour all the individuals who worked so hard over all the years to support COHA. We were able to secure five individuals/couples. In our search for local celebrities we found that we had interest from businesses in the community to put together a team rather than dance individually – this came to be the official launch of our new team category which had two teams for the inaugural year.  
We then set forth to design an event that celebrated 10 years of community, 10 years of memories, 10 years of raising money to help COHA do what they do best – help individuals and families. Our goal was to create a sold-out evening that would be celebrated, a room that was glamorous, but gave you an energy that encouraged celebration…to make it bigger than it had ever been.  
The stage was set, we introduced risers in the ballroom to elevate guests so that all had a great view of the dancers as they showcased months of hard work. Guests were greeted with valet parking and a red carpet welcome, where they received a glass of sparkling wine before they entered the ballroom. We added a lounge to the room so that guests could socialize with others in the room and gaze at photos of the last 10 years of dancers. A three-course dinner, a meaningful COHA story shared with all guests, live entertainment were key elements of a successful night.  
Dancers were competitive, creative and shared their new talent with everyone in the room causing excitement and celebration. The team categories added an added element and the energy from all dancers that night resulted in a late-night dance party and many guests walking away saying that they wanted to be a star and dance in future years. The evening not only created a new experience, but it also reached a milestone with a record breaking $267,000 raised.  
– Christina Ferreira, Impact Events

Team
Draycott-Maser

Team
Parent

Team
Wolf

Team
Connell

Team
Kolar-Smith

Team
November
Project

Team
Restore

Team
Alumni
Team Draycott-Maser
Dancers
Laura Draycott & Stephen Maser
Campaign Manager
Julie Kirschke
Dance Instructor
Tina Joslin
Testimonials
2018 Photos

2018 Sponsors & Supporters
Jane Hoffman Realty, Coldwell Banker
Touchstone Law Group
Smalls Tile & Flooring
Okanagan Chrysler Dodge Jeep Ram
Pharmasave
Bayshore Home Health
De Pieri Clinic
Great West Life
Kimmitt Wrzesniewski
RBC Royal Bank
Westwood Fine Cabinetry
Canadian School of Ballet
Castanet
Bell Media
Kelowna Insta Print
Bylands Garden Centre
Summerhill Pyramid Winery
Delta Grand Okanagan Resort
SW Event Technology
Innov8 Digital Solutions
Avalon Event Rentals
Design Over Wine
Impact Events
B Jollie Artistry
Boulevard Magazine
Ikon Adventure
Jenny McKinney Makeup Artist
Loyal Hair Therapy
MC College
Pomme Salon Inc.
Zahra Salon and Spa
Okanagan Photostar Five Star Photo Booth Rentals
Chris Gibson
Toby Tannas
Rob Balsdon
Mayor Colin Basran
Jenn Skogstad
Organizing Committee
Carley Bailey, Christina Ferreira, Natasha Girard, Nica Graziotto, Joanne King, Kathy Krasnov, Lisa Stephenson
Retrospective Sponsors