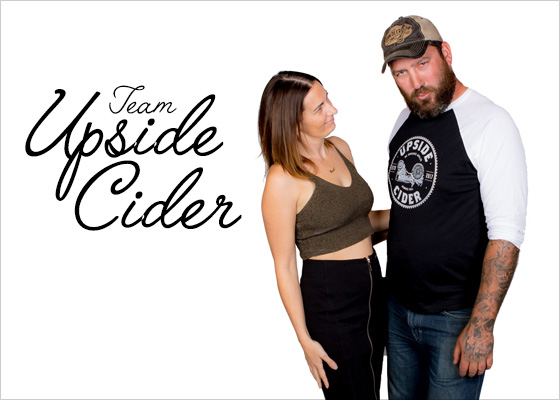 Isaac Potash & Jaye Siegmueller

Jaye and Isaac are both from small communities in BC and are passionate about the organic movement. Isaac has been farming Organically since birth on his family farm in Cawston. 10 years ago he planted his own farm in Kelowna with the vision of something bigger. Upside Cider opened on June 8th and it has been a wild ride of fun and challenges. Jaye and Isaac have been working very hard for the last 6 months launching the cidery and are excited to do something fun together. Jaye also owns Farm Bound, an organic delivery service and the Farm Bound Zero Waste store downtown Kelowna. Together they show people that living a sustainable life can be easier than you think, and full of fun!
Neither of them has much dance experience, but they are excited to learn. Isaac's favorite move is the dad-bod shuffle which will be incorporated…. you're welcome. COHA is an organization that touches everyone and they are excited to give back to a great local charity, and to have a lot of fun doing it.
Professional Dance Instructor
Desiree Bortolussi
Desiree's love of dance began right here in Kelowna. At the age of 5, she began her training at the Canadian School of Ballet under the direction of Mel Brown and Lori Larson. She has participated in many summer dance programs around North America and has competed extensively in dance competitions throughout the valley, including winning the BC Provincial Dance Festival in 2012. After graduation, Desiree was offered a contract with Ballet Kelowna, beginning her career as a professional dancer. This now being her 8th season with Ballet Kelowna, Desiree has had many incredible opportunities to bring her love of the art to over 60 communities in BC as well as her home audience of Kelowna. She was fortunate this past season to dance in Toronto and all the way to Beijing, China, all while performing works by Canadian and internationally renowned choreographers. No matter where her dancing may take her, Kelowna will always be home, and COHA will always hold a special place in her heart. Desiree is so grateful to be a part of Swinging With The Stars for a third time and is excited to be coaching alongside Valentin & Jen!
Professional Dance Instructor
Valentin Chou
Originally born and raised in Paris, Valentin made the move to Kelowna in 2015 when he joined Ballet Kelowna as one of their professional dancers. After graduating from the prestigious Paris Opera Ballet School, Valentin was invited to join the National Ballet School of Canada's Post Secondary program in Toronto. Over the past six years that he has been in Canada, Valentin has had many opportunities to work closely with many of Canada's top and internationally renowned choreographers.
While his family is split between France and Cambodia, Valentin had no trouble making himself at home in Kelowna after receiving a warm welcome from the community throughout the years.
Being part of Swinging with the Stars seemed to be an obvious way to give back to the community that was so generous to him. It is with real enthusiasm that Valentin will jump on the coaching train this year to try to bring home the trophy alongside Desiree, for her potential third year in a row!