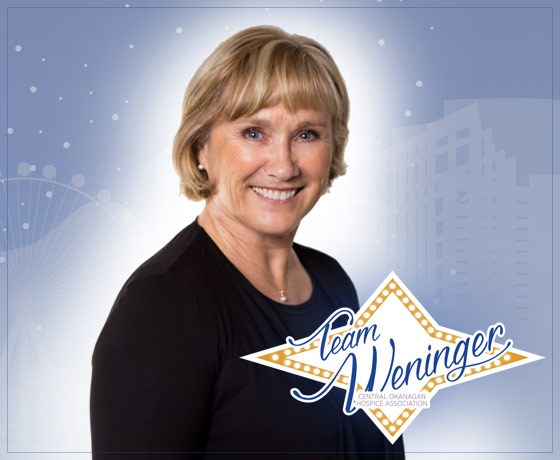 Kathy Weninger
Kathy is a local educator who has been doing her best to make a difference with students and staff in School District 23 for the past 29 years. She loves spending time with her family and friends, including her grandchildren and two energetic dogs, particularly on a wide variety of outdoor adventures. Sports have been a major part of her life in one way or another, so she might be a tad competitive! More importantly, she approaches life with a great sense of humour and fun (not all that much rhythm but time will tell)!
Reason for Dancing:
As someone who was born in 1959, and who turned 59 this year, I thought I needed to make this a pretty special year. So, I decided to challenge myself to do 59 new things this year. This is where "Swinging with the Stars" comes in – definitely one of my 59 things! As much as I've always wanted to, I've never taken any dance classes – now is the time! I also think it's important for us as educators to model what we teach our young people about taking risks, getting out of their comfort zone, and giving back to their community. My participation in dancing and raising money for our local hospice association models all three concepts and at the same time, improves awareness and helps fund the various programs COHA offers.
What does COHA mean to you?
Thirteen years ago, my dad (who loved to dance, by the way) lost his struggle with lung cancer. I remember him talking about his fears about going into the hospital and how he wished he could just stay home. Thanks to COHA and the palliative care program, my dad was able to spend his last days the way he wanted, at home surrounded by his family. Since then friends and colleagues have shared with me how they have also been supported and positively impacted by COHA. "The art of living well and the art of dying well are one." COHA is the only association I know that embraces the concept and the "art" of dying well.