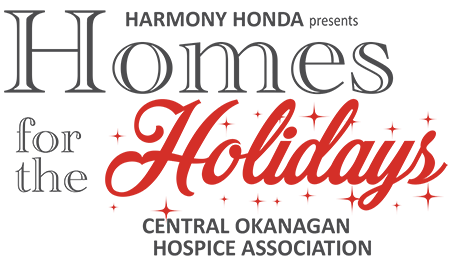 A self-guided tour of private homes decorated for the holidays. Includes artists, tastings, demos and what's hot in holiday decor.
Funds raised support the Central Okanagan Hospice Association providing compassionate care, comfort, support and learning to those dying or grieving alone in our community.
Thank you to our home owners, sponsors, designers, decorators, generous local businesses and volunteers who made this event a sell-out success!
HOME OWNERS
Bev Shortreed and Roger Hume
Corbie & Greg Hewko
Dina Kotler, Christleton Manor Luxury Bed and Breakfast
Impact Builders
Kate & James Dusik
Kristi & James Caldwell, Caldwell Heritage Farm/Wiseacre Farm Distillery
Loy Pierce and Ron Lutz
DESIGN TEAMS
Andrea McFadden, Lillian Sokil, Okanagan Lavender & Herb Farm
Anne Miller
Bev Shortreed
Brooke Bachmeier, Bsquare Interiors
Corbie Hewko
Courtney Ungaro, Courtney Ungaro design + space
Gisele Glover
Heather Cousins, Maria Carreon, MATERIA Interior Design Studio Inc
Heather Doheny
Janice Belsher
Kate Dusik
Kathy Neufeld
Laura Barmentloo
Lisa Johnson
Margaret Vick
Marguerite Berry
Mary Ellen Tabor
Tammy Cunningham, Veronica Monfee, Jessica Ewings, Center Stage Interior Design
Tara Reavie, Tara Reavie Design
Tracy McElhinney, Luxe Camp
Yuriko & Eric Larson, Vintage Origami





















MAKING THE HOMES COME ALIVE
Aether Chocolates
Alchemy
Alex Fong
Annabel Stanley
Art Knapp
Artisto Gelato
Bylands Garden Centre
D-Lite Acapella Singers
David Sproule
Dom Tech Appliance Repair
Doré Blais, Mission Park Flowers
Gwen Kuipers
Hammers & Heels
Home Depot
Jody Bruce Art
Jolene Mackie
Kathy Neufeld and Okanagan College Floral Alumni Students
La Stella Winery
Le Vieux Pin Winery
Let's Stay In
Little Barn Rentals
Lois Lane
Meadow Vista Honey Wines
Mihai Covaser
Moxie's Grill & Bar
Niche Wine Co.
Nico Bosten
Nighthawk Vineyards
Oh, Natural Foods Soup Co.
Okanagan Candle Co.
Okanagan Lavender & Herb Farm
Olive & Elle
Orange Crush Quartet
Petal & Vow
RauDZ Creative Concepts Ltd. (RauDZ Regional Table, micro bar & bites, Sunny's Modern Diner, Terrafina at Hester Creek by RauDZ)
Rustic Chalk Design
Sandi Appleby
Sandrine French Pastry & Chocolate
Sarah Mainland
Shack Shine
Summerhill Pyramid Winery
Tammy's Bistro
The Bay
The View Winery
Urban Fare
Valley Florals
Ward's Cider
Wicker Land Patio Furniture
Young Living Essential Oils
HOMES FOR THE HOLIDAYS COMMITTEE
Alison Love
Carmen Denby
Courtney Ungaro
Debbie MacMillan
Iona Reitsma
Lorraine Miller
Mary Wegner
Val Cocar
Barb Craig
By Jove Co.
Chris Gibson
DPI Canada
Iona Reitsma
Kelowna InstaPrint
MacMillan Events
Marissa Tiel
Okanagan Golf Club
Porrelli Law
Rustic Chalk Decor
Sandhill Wines
Save On Foods Orchard Plaza
SoLo Energy Bar
Shoppers Drug Mart at Orchard Park Mall
Spatula Media + Communications
Start Fresh
Systematic Mills Construction
The Innovation Centre
TH Wines
TMS Productions
In consideration of being granted access to the various properties that make up the Homes for the Holidays event (the "Event"), the ticket holder (the "Ticket Holder") personally assumes all risks associated with such access and, on its own behalf and on behalf of its executors, administrator, heirs, next of kin and representatives, hereby waives, releases and discharges each participant in the Event, each individual property owner participating in the Event, the organizers of the Event and the Central Okanagan Hospice Association (collectively, the "Released Parties") from any and all liability for the death, disability, illness or personal injury, including, physical or mental of the Ticket Holder, or damage or theft of property of the Ticket Holder, arising as a result of or in any manner connected to the Event, whether foreseen or unforeseen, whether it be the result of active or passive negligence, or arising out of the use of equipment owned by any of the Released Parties, or as a result of any alleged breach of any duty or obligation of any of the Released Parties, or otherwise, and covenants not to bring suit or other claim against any of the Released Parties with regard to the same.
By participating in the Event, the Ticket Holder acknowledges and agrees that the Ticket Holder is aware and freely accepts that the Event and its related activities, involves inherent risks, dangers and hazards to their person and property including, without limitation, injury, illness and disability howsoever caused, including dismemberment, allergic reaction, equipment failure, improper use of equipment, falls, slips, soft-tissue injuries, over-exertion, interaction with participants, volunteers, organizing staff or other members of the public, negligence, gross negligence and/or willful misconduct, including, without limitation, the failure on part of a Released Party to take reasonable steps to safeguard or protect the Ticket Holder or its property from the risks, dangers and hazards of participating in the Event. KNOWING THESE RISKS, THE TICKET HOLDER FREELY ACCEPTS AND FULLY ASSUMES ALL SUCH RISKS, DANGERS AND HAZARDS AND THE POSSIBILITY OF PERSONAL INJURY, DEATH, PROPERTY DAMAGE AND LOSS RESULTING THEREFROM.