 Christina Van volunteers her time with COHA. In fact, she may have even greeted you as you arrived at Hospice House to visit a loved one. But her connection to COHA began in 2018, with her husband and her father-in-law's journeys navigating illnesses.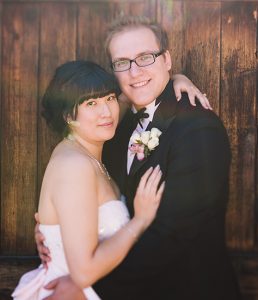 Christina shares:
Alan Paeth was my father-in-law. A long-time cancer patient, he was placed in hospice care in March 2018 and celebrated his 62nd birthday there. Just over two months later, my husband, Scott Paeth, joined him. An unfortunate father-son combo that the nurses said they had never witnessed before.
Before Alan's and Scott's admissions into Hospice House, I never knew what hospice was. What it meant. "Palliative care" and "end of life" weren't words in my vocabulary that I had to deal with yet.
Christina learned about COHA at this time. "There were a lot of small touches that made a huge difference," Christina said. The tea cart was a warm welcome, bringing a bit of joy into Scott's room, as his face would light up when COHA volunteers arrived. The Shaw cable channel brought a glimpse of Scott back to her, as he sang along with a favourite cartoon's theme song. The garden provided Scott and Alan the chance to walk around and enjoy the sunshine together, as father and son.
Alan passed away June 3, 2018, and Scott followed closely after on June 22, 2018. Scott was just 31 years old.
Through her grief journey, Christina learned more about how COHA could support her. She took part in grief group counselling, which gave her the space she needed to grieve these losses. Christina then took the volunteer training course, and learned COHA's vision statement: to create a community where no one has to die or grieve alone.
As she says today, "It's hard to think of life without COHA's support because I benefitted so much from it. COHA as a whole was just so fundamental in our journey."
The Central Okanagan Hospice Association (COHA) has been supporting the Central Okanagan, from Peachland to Lake Country, for over 38 years. COHA is committed to help individuals with a serious illness live to the fullest until they die, and to help their loved ones be supported in their grief.
As the COVID-19 pandemic has evolved, COHA remains here for our community. We are proud to continue to offer our services at no costs to our clients. We believe that there should be no financial barriers in receiving support during life's most vulnerable moments.
But we cannot do this alone. COHA relies on community support to provide these services, now more than ever.
We need your help, so that we can continue to provide these services for our community like Christina and her family. Please make a gift to COHA's Compassion in Crisis campaign, either to highest priority needs, or to one of our campaign pillars.