The Beginning of COHA
As we celebrate our 40th year anniversary of serving the Central Okanagan, it's important that we remember those who laid the ground work and brought the hospice association's vision to life.
The Central Okanagan Hospice Association was founded and dedicated on the principles set by the founder of the hospice program Dr. Cicely Saunders who in the early 1900s after an experience with a dying parent saw that the non-physical needs of the terminally ill needed attention. Dr. Saunders was responsible for establishing the discipline and the culture of palliative care that we know today, introducing effective pain management and insisted that dying people needed dignity, compassion, and respect, as well as rigorous scientific methodology in the testing of treatments.
The vison for the Central Okanagan Hospice Association started over a cup of coffee between Marvel Seeley, Beryl Baldeo and Rudy Katerburg all the way back in 1981 where they set out a vision on how they could get a hospice established in the Kelowna area. Thijs Dhont and Rudy Katerburg attended the International Montreal Conference and shortly after became the first directors to form the organization "hospice" in Kelowna.
After its formation, a study of the need for a multi-disciplinary team approach for palliative care resulted in work beginning on developing a community organization to enhance the palliative care approach to clients by connecting them with trained volunteers. In the winter of 1981-1982 two important steps were taken to form and give direction. The first was to enlist Lynn Corrigan to develop an organized structure. Then the constitution was signed and submitted to the Provincial Government in November 1981. This, along with the study initiative lead to the official formation of the formally named Okanagan Hospice Association in 1982. The second step was to assess the perceived need in the community for hospice palliative care services. Representatives of like minded organizations and stakeholders in Kelowna who had supported the dying or bereaved were invited to a lunch to present their ideas and this formed the basis for planning for the upcoming years.
Along with these important steps another important addition to the forming of the former Okanagan Hospice Association was the development of volunteer training program, started by Shirley Jensen, Rosemary Carter, Agnes Shewring and Myrtle Radke. The volunteer training focused on sitting with the dying and being a healing presence during their time of dying.
Following the establishment of the formally known Okanagan Hospice Association in 1982 there were key events that took part to complete the associations vision:
June 1982 – Public meeting to inform community about Okanagan Hospice Association and to enlist committee members.
August 1982 – Publication by Okanagan Regional Library of annotated booklist "Death and Dying".
September 1982 – The first Okanagan Hospice Newsletter/Loss and Grief course commenced at Okanagan College.
October 1982 – Appointment of Betty Greenwood as the first Volunteer Coordinator.
December 1982 -Office space donated by Kelowna General Hospital and generously shared by hospital chaplain.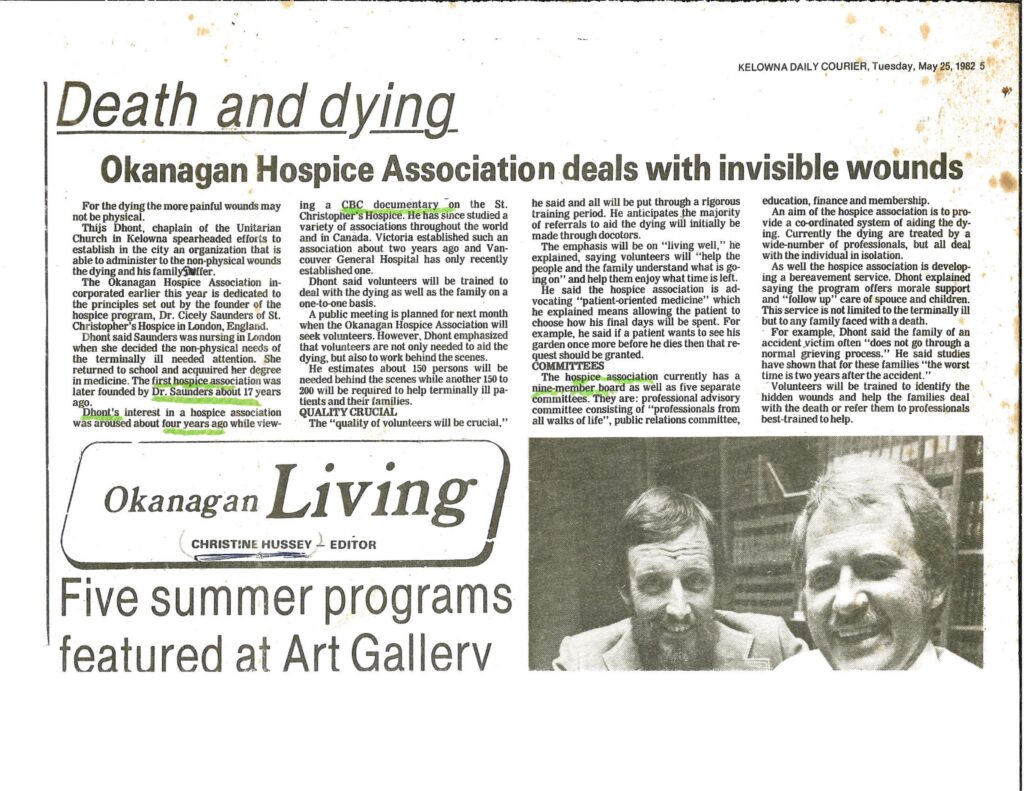 Thank You For 40 Years
The unwavering support COHA has received over the last 40 years from their volunteers, donors, members, donors, board of directors and staff exemplifies the true definition of generosity and kindness. It has allowed COHA the opportunity to grow into the staple of support it has now become within the Central Okanagan communities. Over these 40 years we have seen our organization grow into a pillar of strength and look forward to providing our support for another 40 years.
When we look back at our 40 years we have been so fortunate with all the help we have received from our volunteers, donors, members, board of directors and staff . They have all been integral in how COHA has shaped itself within the community. We've seen our programs and services grow and has become an essential service throughout the Central Okanagan for those who are dealing with death or are dying. Our growth and accomplishments are attributed to all the hard work done by everyone who has involved with COHA over the years no matter how big or small.
To our volunteers, we are indebted to your love, compassion and ability to put those who are suffering first. You are the backbone to this organization and we are forever grateful to each and every volunteer who has dedicated their time in helping us grow to where we are today.
To our donors, it takes a selfless person to give back and make an impactful gift to those in your community who need help. Your generosity and willingness to allow us to share our vision to support people in their most vulnerable moments, expand our services and continue to serve our community when the demand is at its highest.
To our members, thank you for your effort in electing the board of directors and trusting our philosophy and our vision to be carried out to its fullest.
To our Board of Directors, over 40 years you have stayed true to the initial vision established in 1981 and we thank you for guiding COHA over the last 40 years.
To our staff, thank you for working tirelessly in making sure COHA continues to operate over the last 40 years, we are proud of the work that has been collectively accomplished.
Thank you message from Natasha Girard, Executive Director
Thank you message from Anee O'Keefe, Board of Directors, President
Let's Celebrate 40 Years!
Join us in celebrating our 40th year anniversary! We are bringing our community together to thank them for their overwhelming support and to ensure we continue to be a pillar of strength for the Central Okanagan.
In Loving Memory Campaign
April 2022 – June 2022
In the month of April we will be launching our In Loving Memory Campaign which will offer our community an opportunity to connect and remember their loved ones. To make a donation to honour your loved ones, please check back here over the next few weeks for further details. If you are interested in more information on our memorial gift, please contact our Executive Director, Natasha Girard  at 250.763.5511
Butterfly Vigil
June 20th, 2022
The magnificent release of the butterflies has been missed! We are delighted to announce that the release of the butterflies has returned.  This year along with the release of the butterflies a memorial tribute wall will also be present to further help remember the loved ones we've lost.  We will be hosting the Butterfly Vigil in Rhapsody Plaza, downtown Kelowna. More details will be released over the coming weeks.
Swinging with the Stars
February 25, 2023
Dust off those dancing shoes! The biggest event in the Central Okanagan is officially back! We are thrilled to announce that Swinging with the Stars is returning in 2023. With more details to come over the next few weeks stay tuned for more details!